Buying a sewing machine is always an excellent and productive decision. However, deciding on the most accurate and appropriate model for you can be a problem. In this case, the hard part is deciding between Brother or Singer sewing machine.
Each of these options has an excellent track record among their available models. They are also popular enough to confuse any user. To summarize we can mention that both can provide excellent features in general.
That is why we can discuss the main aspects of each sewing machine below. In this way, you will be able to count on the work tool that best suits your needs and pretensions.
Singer or Brother Sewing Machine?
In principle, we can mention that both options can provide excellent advantages in general. However, novice users may feel a little overwhelmed when choosing one of them. That's why we can analyze some key aspects of each option. In this way, you will avoid making the wrong decision.
Average functionality: When we take into account all the general characteristics of both sewing machines, we can notice a good quality. So, this means a lot of results with any of the two options. Furthermore, this also includes the sergers, on which both the Brother and the Singer are suitable.
Ease of use: In this case, we must mention that the ease of use is not the same for both machines. On the one hand, the Singer sewing machine provides simple functionality. So, it is one of the best options for most novice users.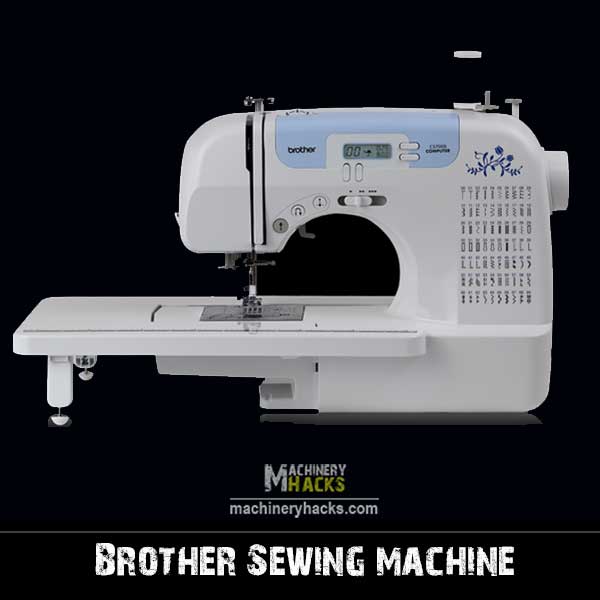 On the other hand, the Brother sewing machine is a bit more complicated to use as it requires more experience in the area. So, this may be an advantage for advanced users only.
Advanced features: This is a different view from the previous feature. Here we can point out that the Brother machine includes more advanced technology than the Singer machine.
This can be an advantage for certain jobs, such as quilting. For this, it is necessary to learn properly how to use the technology and computerized components of this tool.
Embroidery quality: Although both options can provide a good result, it is not the same in each case. At this point, we must also emphasize the quality that a Brother sewing machine can offer. You can use the advanced features to optimize the quality of your work.
Brother vs Singer – Differences to Be Taken Into Account
Geographical location
As we have outlined, both machines have excellent features to offer you. However, before choosing an option consider what your needs are. Specifically, it is a question of what tasks or jobs you want to perform with one of these machines.
In this regard, we can first mention the geographical location in which you are located. In particular, this means that if you live in a city that is too far away from large urban centers you will need a dealer nearby. Otherwise, you will not be able to repair your sewing machine efficiently.
Therefore, this means that you will be without your work tool at the first malfunction. That is why it is useful to check which repair shop you have available nearby.
Functionality for beginners
When you buy a machine that is too complicated, it can be a little disappointing. So, the best option to start learning and doing your first jobs is the Singer model. This way, you will not feel disoriented when you go through the learning curve.
On the other hand, you may wish to perform certain stitches, letters, embroidery patterns, among other advanced techniques. For that, you can choose the Brother sewing machine. At this point, you will find more computerization of the inner workings. You have the necessary knowledge this feature is of course a plus.
Further settings and functions
Each of these aspects relates to functionality for beginners. So, more settings and functions allow you to do more projects. But to do this you must know how to use each of these functions correctly.
If you only want to do simple work, then a sewing machine that is too advanced would be a waste. You would be spending extra money and not taking advantage of the full potential that a Brother sewing machine can offer.
Conversely, the Singer sewing machine might not be enough if you want to learn new, more complex techniques over time. So before choosing one of the two options, you should seriously consider what your expectations are for the future.
Additional Aspects to Consider Before Purchasing an Option
There are several questions you can answer to make your choice accurate. As we have already mentioned, you should consider what work you want to do in the future.
Many users get excited about their new sewing machines. So, when you start doing your new jobs, you may want to continue learning. So, you must decide if you want to perform:
Basic sewing
Night padding
Simple padding
Advanced embroidery patterns
Stitches
Letters
On the other hand, you will not have the same result if you work with any type of fabric. In this sense, you should have a sewing machine that is sturdy and can handle the toughest fabrics. Therefore, you should consider the main ones of those used in general. Some of these fabrics are:
Denim
Vinyl
Canvas
Nylon
Cotton
Also, you should consider your budget. In the case that you are a beginner in the subject, you can acquire an excellent option with a tight budget. In the same way, if you want a more resistant machine or with greater configurations, you will need a considerable budget.
Finally, the specific size of the sewing machine is another aspect to consider. As a result, heavier machines tend to be a bit more rugged and have more advanced features. Therefore, it is an excellent choice if you will only be using your sewing machine in one place.
Lighter options, on the other hand, will allow for more efficient transportation. This way, you will be able to have your sewing machine not only at home but also in other places. So, for some people, they may prefer a versatile option for working in different locations.
Which One is Best?
Although all users have different needs, we can mention a certain model as the best. In this respect, Brother XM-2701 provides excellent features for the vast majority of users. Plus, you don't need to have a large amount of money to start learning. Moreover, the combination of functionality and efficiency is one of the most suitable.
On the other hand, we can mention that the Singer 4423 model offers simple yet robust functionality. That is why it is another excellent option that will be able to cover a large number of jobs efficiently. However, you should determine what your specific needs are before making your final choice.
Some Popular Brother Sewing Machine Model
Best Overall – Brother CS7000i: Here we find the ideal combination of budget, quality, and operating efficiency.
Specifications
Stitches/Designs: 70
Speed: 800 Stitches per Minute
Attachments: Free Arm & Extension Table
DROP-IN TOP BOBBIN
AUTOMATIC NEEDLE THREADER
LCD Screen & Button Selection
Why We Like it?
Easy to Learn and Use
Light weight Design
Premium Quality Material
High Durability
Lower Customer Complaints
Brother Best Seller Model
Wide Table
Best for Beginners – Brother XM2701: In this sense, it's also the best choice but the most appropriate Brother model for beginner users.
Best Heavy Duty – Brother ST371HD: By using this model it is possible to have a long-lasting sewing machine. This also means the ability to work with different types of fabric.
Best Computerized – Brother CS6000i: One of the most advanced configurations concerning other computerized models is included here. This Brother computerized sewing machine it's all you need.
Best Budget Friendly: Brother GX37
Some other Brother popular models: Brother SE600, Brother CS5055PRW, Brother PQ1500SL.
Some Popular Singer Sewing Machine Model
Best Overall – Singer 4423: This Singer model combines excellent resistance to work with different types of fabrics, together with reliable and simple functionality.
Specifications
Stitches: 23 Built-in Stitches
Buttonhole type: Auto
Auto Needle Threader: Yes
Number of Needle Position: 3
Why We Like it?
Easy to learn and use
Light Weight Design
Best Seller Model
Higher Customer Reviews (Positive)
Best for Beginners – SINGER Start 1304: According to the opinion of a large number of users, this Singer model offers a simple and excellent functionality to learn.
Best Heavy Duty – SINGER Heavy Duty 4432: This Singer heavy duty sewing machine model provides an excellent speed of work, together with a small budget, and excellent resistance in the operation.
Best Computerized – Singer 9960: Here you will get an automatic needle threader, the use of a large number of accessories and tools, among other functionalities. Here, the Singer computerized sewing machine is one of the most advanced.
Some other Singer popular models: Singer 14T968DC, Singer 7258 etc.
Frequently Asked Questions (FAQs):
What is the best Brother sewing machine?
The Brother CS7000i sewing machine is the best Brother sewing machine in general. Here, a good cost-benefit ratio is included. It is also one of the best options to start learning how to do your first jobs. Finally, the operation is one of the most reliable when performing different types of jobs.
What is the best singer sewing machine?
In this case, the best Singer sewing machine, in general, is 4423. Here it is very easy to notice the ease of use in combination with an excellent level of strength. Therefore, it will be very difficult for this sewing machine to deteriorate with the operation or over time.
How long do Brother sewing machines last?
With the normal operation of this sewing machine, you will get a lifetime of 5 years. Of course, this time is approximate as there are several factors to consider. So, if your sewing machine is not that strong, then hard fabrics could shorten the life span.
How long do singer sewing machines last?
As mentioned with the Brother model, Singer sewing machines also provide 15 years of service life. Again, you should consider the specific use that the various Singer models can withstand.
You may also like to read:
Top 5 Best Thread for Brother Sewing Machine
Final Notes
We can conclude by mentioning that the level of versatility of your sewing machine is perhaps the most important aspect. Thus, a versatile sewing machine can be used by a professional as well as an amateur in the area.
Besides, both Singer sewing machines and Brother models will provide you with an overall advantageous package. That's why both brands have a considerable level of popularity.
In conclusion, once you get the right sewing machine for you between brother vs singer, you can start making great projects. Even the most affordable models are excellent tools to start learning from the most basic technique.