One of the many confusions out there is the difference between Coverstitch vs Serger machines. While they look alike, they provide completely different purposes. Yet, not many people know how to set Serger vs. Coverstitch Machine apart and for what they're used for. Do you need both?
Even though most types of sewing machines look similar – they're not. That's why there are tons of misconceptions about what they do and how they operate.
But don't worry – we know exactly how to help you. Thanks to our vast experience with Sewing Machines and our deep expertise in how they operate, we can explain what they do in brief so you can pick the ideal one for your projects.
Take a look below and learn!
Coverstitch vs Serger : What's the difference ?
If you got into this article, it's probably because you read their names, saw that they look alike, and asked yourself:
"What is the difference between a Coverstitch machine and a Serger?"
A Coverstitch machine creates double-line stitches for hems and other finishes instead of producing single-thread stitches like regular sewing machines. That's why it is called a Coverstitch.
A Serger offers the chance to create these stitches on almost any type of fabric, including knit ones. But they're often ideal for the thinnest and lightest of fabrics, as the machine works with extra precision and care.
Well, you'll be surprised how different these two machines are despite being so similar. In this section, you'll learn everything about the difference between a serger and a coverstitch machine. So read up!
What is a Coverstitch Machine?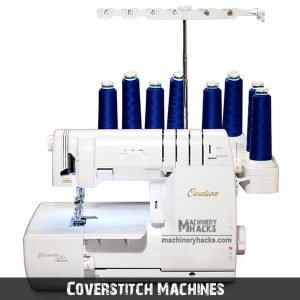 When it comes to creating professionally-finished hems, no other machine gets the job done as well as a coverstitch one.
Do you know "What is the function of a coverstitch machine?"
The function of a coverstitch machine is to create the most stretchable and secure seams, so even the harshest of fabrics will look neat. This works exceptionally well on knit fabrics that are often difficult to produce hems on.
A coverstitch is usually perfect for finishing sewing jobs. Whether it is a shirt, a pair of pants, or simple curtains – a coverstitch offers the best finishes and hems out there.
They still work for a wide array of other purposes, including decorative stitching, lace attaching, elastic add-ons, and even sophisticated trimming. But the precision and neatness are often not too good.
Moreover, a coverstitch machine looks incredibly similar to a regular sewing machine. And because they look almost the same, they're operated similarly. From the threading to the stitching itself, it works as effortlessly and seamlessly as a sewing machine.
Advantages of a Coverstitch
Perfect for hems and other finishes on knit fabrics
Large working area similarly to regular sewing machines
Works with up to three needles and several threads at once
Lack of knives makes them easier to prepare & use
Disadvantages of a Coverstitch
Doesn't have internal blades so can't cut thread
Can't create proper decorative stitches
What is a Serger Machine?
When you want to give a professional look to a sleeve, hem, or seam, you use a Serger machine. It is the perfect product to create beautiful stitches by encasing edges and borders in the neatest way possible.
A Serger machine is also called an overlocking sewing machine. So you're likely to struggle to know the difference between serger and overlocker machine name. Still, the purpose is always the same, to create attractive finishes on the edges.
On top of that, overlocking machines use up to eight threads at once, contain several blades to cut this thread and allowances, and usually boast loopers that knit the fabric while stitching. So you get a complete seam production from them.
If you want to create beautiful sleeves, seams, and similar finishes on soft fabrics, a Serger machine is a way to go.
Advantages of a Serger
Trims and stitches to create good-looking joints
Works fast and effectively
Can create different finishes on any fabric
Uses blades and loopers for complex results
Disadvantages of a Serger
The worktable of a Serger tends to be limited
The knives on Sergers can leave uneven edges
Serger vs Coverstitch: Factors to Consider
After giving you a brief explanation of what they offer individually, now we're going to compare several factors that set them apart. You're going to understand how coverstitch machine vs overlocker differs in each of these factors.
Primary Uses
When it comes to creating good-looking seams, you will find that both coverstitches and Sergers perform amazingly well.
But there's a slight difference when it comes to how they're used. And it all comes down to how they work with some fabrics.
For example, a coverstitch works perfectly with stretchy knit fabrics. This happens because it has a larger stitching area and more needles. So it creates highly attractive stitches in most knitted clothes and accessories. It leaves a stretchy and seamless edge on this type of fabric.
In contrast, a Serger machine is not necessarily bad at creating seams on knit fabrics, but it works better with thin and more fragile materials. It has a slightly more precise operation and produces way more stylish seams in other types of fabrics that are not as difficult to work with as knits.
That means you can use both machines for the same things. Whether it is creating laces, elastics, bindings, or similar stitches – they both perform well enough. But coverstitch is better for thick and more delicate fabrics, while overlocking machines are better for the thinnest ones.
If you want to have both at once, you can always pick a best coverstitch serger combo machine. It combines both machines so you can get any type of seam stitching you want.
Versatility
Apart from working with stretchy knit fabrics, a coverstitch machine can also handle more intricate jobs like adding trims, creating elastic hems, attaching laces, or even producing decorative edges. Also, you can use tons of different threads at once, which adds up to their practicality.
Yet, it is the Serger machine that stands out. You can produce almost anything, including cover stitches, overlock stitches, beautiful seams, laces, and trims, and more. While they don't work with as many threads as coverstitches do, Sergers are usually more versatile.
Between Serger vs Coverstitch in terms of practicality, the Serger gets the medal.
Ease of Use
It is safe to say that both coverstitch machines and Sergers are reasonably easy to use. However, you may want a slight difference in their operation.
First, let's start by saying that a coverstitch machine is super-simple. It has no blades, no loopers, and only 3 or 4 needles depending on the model you pick. And sure enough, coverstitches mostly create hems, trims, and laces.
But with a Serger machine, you can create a lot more with maximum decorative results. So they usually have more threads and more loopers. While you will find the same amount of needles, thread guides for easy installation, and automatic motors, they still make it a little harder to use.
You would be literally sewing over already sewn fabric with a Serger. A coverstitch is only stitching the fabric up.
So the best coverstitch with Serger will be a lot harder to achieve than the best over-lock stitch with a coverstitch machine.
Frequently Asked Questions (FAQs)
Even after reading our comprehensive guide on how Serger machines and coverstitch machines differ, you may still have a few doubts. Well, we want to clear them out with this section:
What is a cover stitch?
While reading our coverstitch machine vs Serger comparison, you probably found that we never explain what a cover stitch actually is. Well, it refers to a type of stitch that pushes the trimmed edge of fabric up, covering it with two lines of threads or stitches. It gives a professional look to edges.
Can a Serger do a Coverstitch?
Yes, a Serger machine can actually deliver a cover stitch. But, the result won't be as perfect and neat as a coverstitch itself. And what's even more important to mention, a Serger won't be able to create such stitch in thick knit fabrics as well as a coverstitch machine does.

At the same time, even the best coverstitch machine won't be able to create the same intricate and colorful stitches that a Serger can.
Is a Coverstitch machine worth it?
Yes, it is totally worth it as long as you genuinely need a machine that can create professional-looking seams on clothes and accessories. And if you're working with knits fabrics, then a coverstitch will come like a charm. 
What does a Coverstitch machine do?
A coverstitch sewing machine simply creates seams, hems, and similar edge stitches that a regular sewing machine struggles to make.
What is an overlocker?
It is the second popular name for a Serger machine. But it actually refers to a type of stitching method that covers an entire edge to make it look neater and better-looking
What is an overlock Serger machine?
We already explained what is a Serger used for, but to make it even more explicit, it creates hems, seams, and gorgeous finishes on the edges of clothes. It stitches in a way that covers ugly trims and makes them more attractive.
How to Hem with a Serger machine?
It's a pretty straightforward endeavor to create hems with Serger machines. You can follow these steps:
Folding the Fabric:

Start by folding the fabric you want to hem over. Then fold again to discover the part of the fabric you want facing out.

Set-up the Serger machine

Set the Serger machine to 2 or 3 threads as needed. Set up the tension as well. Be sure the needle thread is between 0 and 2, the upper looper thread is between 5 and 7, and the lower looper is between 2 and 4.

Place the Fabric

Now place the fabric with the fold on the stitching table. But make sure the wrong face of the fabric faces up.

Start Stitching

Then start stitching, making sure the needle starts covering the edge of the fabric just barely.

Last Step

Finish by pulling the edge and the folded side in different directions. You will just need to press the hem, and that's it.
Video: User Experience and Tips (Serger and Coverstitch Machine )
Wrapping Up
As you should have learned from this article, comparing a Coverstitch vs Serger is not exactly the smartest of things.
While they work in similar ways and offer very close results – their results are different. So comparing them is almost unnecessary. Instead, it would be better if you pick precisely what meets your needs.
So, if you need to create more decorative finishes in clothes, a Serger can be your best bet. But if you instead want to produce intricate finishes on knit fabrics, then a coverstitch is your way to go.
What will you choose? If you want to enjoy both benefits, then don't hesitate and pick both. Whatever you pick, make sure it is a choice you won't regret.