Do you know how to use embroidery machine? If you are new to embroidery and are still looking for the cutting edge, learning how to use the embroidery machine will do you great good. Even so, you must ensure that you get the process right before you try your hands on a professional project.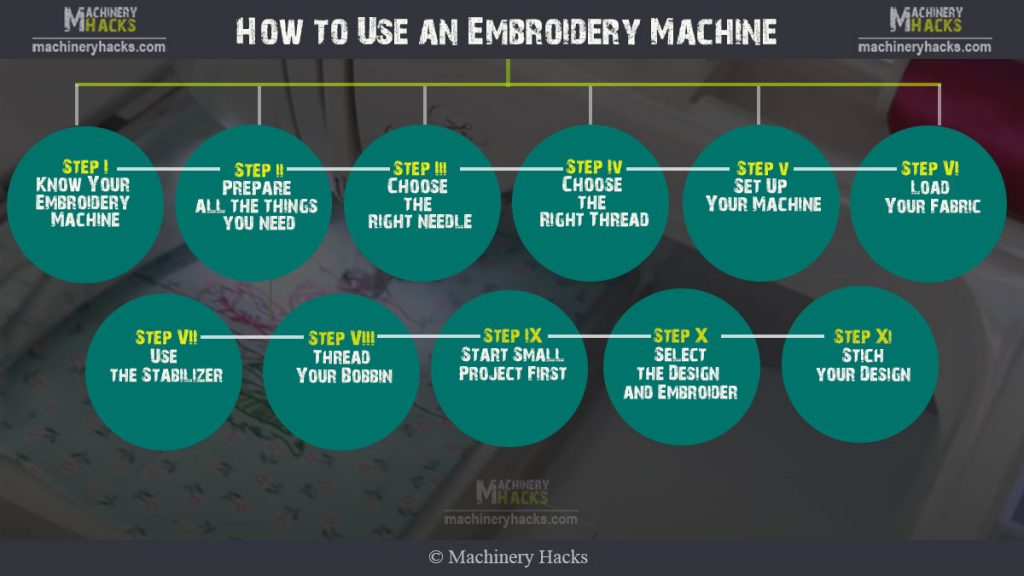 Thankfully, you don't have to worry. In this article, we are going to show you how an embroidery machine is used. But first, let us take a look at the following:
Time needed: 10 minutes
If you are planning using an embroidery machine, here is a step by step guide that will help you.
Get to Know Your Embroidery Machine

The very first thing that you need to do is to learn your embroidery machine. While the machines use the more or less the same technology, they may work quite differently. Their mode of operation and how they are used could be rather unique to the manufacturer.

As such, it is better to learn your machine. You should understand how it works and what it requires to deliver the best results. To do that, you need to access the user manual and follow it keenly.

You can also ask someone who is conversant with embroidery to help. Remember, this is important if you want to get the subsequent steps right.

Prepare all the things you need

The next thing about doing your own embroidery is to prepare everything that you will require along the way. This is also one of the best machine embroidery tips as it prevents you from running around amid your work.

When your work starts, you'll need all the concentration that you can get, and any slight distraction might leave you with bad results. So what are the things that you'll require for a successful embroider work/project?

You'll require a thread or yarn, bobbin, work fabric, several needles of choice, an embroidery computer software, and a stabilizer. This is besides the embroidery machine itself.

NOTE: The stabilizer holds the fabric in place.

Choose the right needle

The next thing is to choose the right needle. Usually, the most ideal thing is to use only those needles that are ideal or which are designed for the specific embroidery thread and material/fabric.

The most important thing to remember is this. The needle size that you'll choose should also depend on the fabric's weight. But this won't be an issue if you are using a commercial embroidery machine.

These types of machines use round shank needles while their domestic counterparts will use the shank needles with a flat-sided design

NOTE: Needles are categorized based on a standardized numbering system. In this case, a larger number will indicate a larger eye, while a smaller number will mean more accuracy. Try out your fabric with the needle first.

Choose the Right Thread

Now that you have the right needle, you'll need the right thread. There are basically two threads that you can choose from when you want to do embroidery. They are the embroidery thread or the bobbin thread.

To distinguish and embroidery thread from the ordinary sewing thread, you should look at these machine embroidery basics.
i. Thinner threads
ii. Stronger threads

NOTE: Rayon and polyester are the most common embroidery threads. Even so, the bobbin has a different use in embroidery. It is designed to give the back of your embroidery a lighter touch.

Set Up Your Machine

You should now set up the machine. Do this by connecting the machine to its power supply through the plugin port. If the machine is supported by computer technology, you should connect it to the computer using the USB port (most machines have compatible USB ports). You should install the embroidery software before using the computer.

NOTE: You should MASTER the SOFTWARE. Follow the user manual to get a touch on how the software works. Most of this software will give you a simple tutorial that you can use for practice.

Load Your Fabric

Before you continue, you must load your fabric on the machine. Ensure that you have loaded the fabric properly. This can also be done by following the user manual, as most machines work differently.

Use the Stabilizer

Remember that I mentioned the need for a stabilizer in the first part? Now, this is where it comes in. It is time to lay out the fabric. The most important thing is to ensure that your fabric is held in place.

If you do this, you will eliminate creases and kinks. This will give you a smooth and stable working place. So use a stabilizer to hold the fabric that you intend to work on in place.

Thread Your Bobbin

How an embroidery machine works depends on the manufacturer. Follow the user instructions to thread in your bobbin. Make sure the bobbin remains on one side of the fabric once you have threaded it.

Start Small Project First

Since you are set up and ready to hit the road, you don't want to waste your fabric or thread on the first try. That's why you are starting with a small project first. This is a project that you'll use to practice.

Remember that when you start the real project, there won't be any room for blundering. So take your time to practice on the smaller projects. To start on a small project, here is what you should do.
i. Choose a pre-installed design
ii. Load it on your machine
iii. Embroider

NOTE: Once you get it right, you can now follow up with the bigger projects so that you get to your work.

Select the Design and Embroider

Most embroidery machines nowadays will come with several built-in embroidery designs in the software. They also provide an option to import some extra designs right from the internet. Choose the design that suits your needs and set down to embroider.

Stich your Design

For the best machine embroidery for beginners, this is often the final step. To get the stitches, learn to be very patient with your machine. You should also ensure that your stabilizer remains in place and prevents any kink around the fabric.

As if that's not enough, you should also master how the machine operates before rushing into the stitching part. I suggest getting an experienced hand to help. Calling onto someone with this expertise will not only make the learning process easy and fast, but it'll also ensure that you get the best results.

Take your stitch at a time so that you get the best final touch. Eventually, you should easily come up with a model that'll be a wonderful piece of craft.
Video Guides: Using an Embroidery Machine
What is Embroidery?
Like metal or woodwork, embroidery is an art. However, it is the art of fabric decorating. Embroidery enables you to sew in different patterns on a piece of fabric using several other materials, such as a needle that you will use to apply your yarn.
In the process of learning how to use an embroider machine, most users often have various concerns. Some of these concerns I have highlighted here so you can get a better understanding of the pros and cons of embroidery.
Machine Embroidery for Beginners: Useful Tips that Make the Difference
If you are just beginning on your embroidery, you need to ensure that you get the best results out. This will mean taking a look at the most prominent tips that you can get. Thankfully, we have prepared some of the most fundamental tips for you:
Get the Right Help
You don't have to do it alone if you are just starting. You can always get help. Find an embroidery school to learn how to use an embroidery machine before getting back to your own. You can also ask an experienced hand to help you out.
Learn Your Machine
Nothing rocks like working with an embroidery machine that you fully understand. It is, therefore, very important that you learn your machine. Take your time to follow the user instructions to the last dot.
Remain, Patient
Whether you are experienced or not, this point is vital. You need to remain patient so that you can easily get the best results out of the whole process. You should be patient when learning the machine and also when working on your embroidery.
Understand the Software
Most beginners often get to the use of their embroidery machine without necessarily understanding how the software part works. Failure to learn the software is planning to fail. You must ensure that you understand how the software works and how you can relay your patterns to the machine.
NOTE: There are so many machine embroidery basics that new learners can get. However, they must apply these tips that we have mentioned here. These tips are ideal, especially if you are looking for an easy way to progress through your embroidery.
Frequently asked questions
Can you do embroidery with a regular sewing machine?
Yes. You don't have to get a particular embroidery machine to do embroidery. With a regular sewing machine, you are good to go. There are different types of sewing machines available in the market. However, a customized machine makes your work easy since it is compatible with embroidery software and computers.
Can you use an embroidery machine to sew?
Yes. If the machine is not an embroidery only machine. This type of machines will include a removable embroidery unit that you can bring out once you need to use the machine for regular sewing.
Can embroidery machine do cross stitch?
Yes. Cross-stitch can be done on any fabric using a regular machine or embroidery machine. They are very ideal, versatile, and long-lasting. As such, they make the fabric more durable.
Can an embroidery machine do appliques?
Unlike embroidery, appliqué is bold and graphic. Nonetheless, they are less intricate compared to embroidery and do not use the cut-and-sew technique as embroidery does. But here is the good part, due to their thicker and wider, and vibrant decorative touch, they can be done in an embroidery machine.
Can you use an embroidery machine to quilt?
Yes, you can use a quilt for your embroidery machine! It will take longer for you to hoop the main fabric before maneuvering every quilt to the embroidery machine, but it will work and will leave you with cool models.
How to machine embroider without a hoop?
You will use a water-activated stabilizer. Since it has a tear-away technology, it will make your work easy. Make sure that the water–activated stabilizer is hooped with its adhesive side facing upwards.
Is an embroidery machine worth it?
Yes. The machine will allow you to make cool patterns or designs using yarn on your fabric in a very short time. It is easy to use and will save you the grueling process of using your hand to make embroidery.
What is computerized embroidery?
Computerized uses computers to replicate patterns on your fabric. The machine used for computerized embroidery will be connected to your computer through the USB port. The machine works with the embroidery software that's pre-installed on the computer.
Is using an embroidery machine hard?
If you don't have the right knowledge, you will find using the embroidery machine complicated. However, with the right guide, the process is very easy.
What is a water-soluble stabilizer made of?
The basic water stabilizer is made of Polyvinyl alcohol or, most of the time, water-soluble synthetic polymer.
What can I use instead of a water-soluble stabilizer?
You can use different types of fabrics instead of water stabilizer. Some of the best fabrics that you can work with include cotton, fleece, and flannel. They are ideal alternatives to the fabric stabilizers.
Final notes
Now that you have learnt how to use an embroidery machine, you must ensure that you practice a lot to boost your prowess. This will make your work easy, and you will easily get the best results for every project that you indulge in.
Even so, you shouldn't forget to import as many designs as possible for various projects. This is the main reason as to why the software part of the embroidery machine comes in. With proper use, you should end up with some cool stitches.
The software has made it easy to select any design that you may need for the modern types of work displays. Indeed some machines will also allow you to modify designs by either editing or adding more designs.
If you are planning to do machine embroidery or buy a new embroidery machine for your business or personal use we hope this article will help you.