Why read low-quality SINGER MX231 reviews when you can learn with us? We've carefully reviewed the MX231 so that you know whether it's a good fit for you or not.
This is an extensive review of this model. You'll find everything you need to know about it in each review section. We'll also go over some main differences between the MX231 and the MX60. And by the end of the review, you will find a short guide on how you can use this machine.
With all that being said, let's jump right into it.
Review of Singer MX231 Sewing Machine
The Singer MX231 is a pretty versatile and powerful sewing machine. For example, it comes with 97 built-in stitches, all of which increase your creativity when sewing.
On top of that, the presser foot can be adjusted as you're making changes on the fly. And it is pretty simple to use.
Another advantage is that it does not look intimidating, making it easier for beginners regardless of experience. And it delivers excellent for those who struggle sewing buttonholes.
Key Features of Singer MX231
In preparation for this review, we've gathered the key features of the Singer MX231. That said, let's take a look:
1-Step Buttonhole
Want to scare a sewist? Say the word "buttonhole." It works like a charm. But in all seriousness, sewing buttonholes can be a tedious task that many aspiring sewists struggle with.
But they don't have to be so tricky with the right machine. After going through the Singer MX231 sewing machine reviews, one of the most noticeable features consumers have pointed out is that sewing buttonholes is pretty simple. The end results look gorgeous.
Automatic Needle Threader
We know the struggle of spending so much time trying to thread a needle. Even though this is the first thing sewists learn, it is still difficult for many people.
To make this process ridiculously easy, Singer's model offers an excellent needle threader to avoid spending unnecessary time.
Built-in Stitches
Ever came across that one sewing machine that barely had any stitches? Well, we certainly have. While this might not bother some sewists, some might argue otherwise.
For those folks that need several different stitches, this sewing machine will do wonders for you. It comes with 97 built-in stitches.
Singer MX231 Specification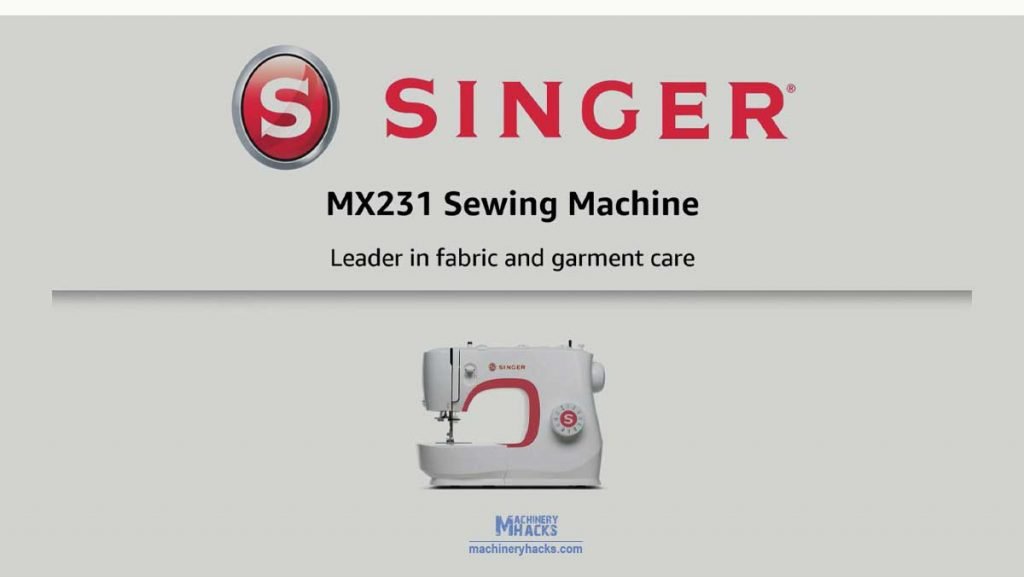 Not sure if the MX231 is a great fit? Here are some Singer MX231 features that might change your mind:
Free Arm
If you continuously deal with sleeves and trousers, you will love The MX231. Having a free arm is a huge advantage when attaching a sleeve together.
Loading Bobbin
By simply removing the storage compartment and the hinged door, you can easily access the bobbin holder. This makes loading bobbin significantly easier.
Adjustable Presser Foot
The MX231 also offers an excellent and efficient presser foot, which can be lifted. This allows the user to work with heavyweight fabric or delicate fabric.
Pros and Cons of Singer MX231
Pros
Automatic needle threader
1-step Buttonhole
Comes with 97 stitches
Works like a charm on heavy fabrics
Should you Buy Singer MX231?
Yes, the Singer MX231 is the best Cheapest Sewing Machine if you want a functional and straightforward machine. It is easy to operate, comes with several stitches, and is lightweight.
Not only that, but we also love how precise it is. With that said, we genuinely think this is an excellent investment.
Singer MX231 vs. MX60: What's the Difference?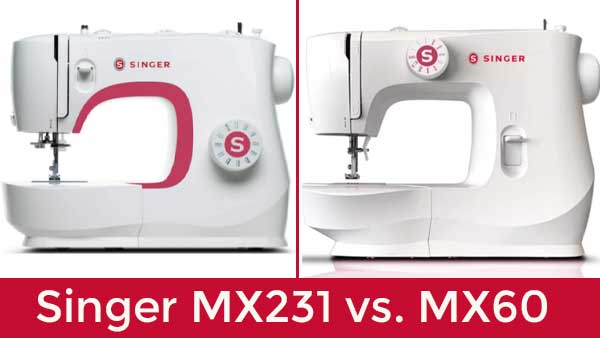 Came across these two powerful machines but can't tell them apart from each other? Well, here are some factors that make them unique:
Built-in Stitches
One of the most noticeable differences between the MX231 and the MX60 is that the former has way more built-in stitches. It comes with 97 pre-installed stitches, whereas the latter comes with 57 stitches.
LED Lighting
Another massive difference between these two sewing machines is that the MX60 has a built-in LED light, whereas the MX231 does not come with it.
Buttonholes
Singer MX231 VS MX60, which one is easier to use? One significant difference you must be aware of before getting one of these machines is that the MX231 comes equipped with a 1-step buttonhole, whereas the MX60 comes with a 4-step buttonhole.
But why is it a big deal? Simply put, the 1-step Buttonhole is more automatic than the 4-step Buttonhole. The latter requires more steps and can be quite annoying for some sewists.
How to Use Singer MX231? (Videos)
Don't know how to use the Singer MX231? Well, here is how you can do it:
1. Wind The Bobbin
Put the thread around the bobbin winding tension disk. It should go in-between the disk. Next, feed it through the small hole on the bobbin and then place it on the winding spindle.
From there, snap the bobbin into place. Now gently pull the thread towards you and press the foot control.
Stop the machine and cut the thread tail. Next, start the sewing machine and let it rewind the bobbin. Remove the bobbin and then place it into the bobbin case. After that, put it inside the bobbin holder.
2. Thread The Needle
Put the sewing thread on the spool pin. Next, find the small hole on top of the machine. Now feed the thread through from the right side. After that, take it to the machine's backside and feed it through the hook on the bobbin winding tension disk.
Now take the thread down through the groove. After that, make a U-turn. From there, go to the right of the take-up lever and then go to the left side.
Now push the thread down. As you're pushing it down, go behind the needle's hook and then thread the needle. Next, bring the bobbin thread up. For this, hold the thread and then turn the wheel towards you.
After that, pull the thread, and you should have a loop. For more on this, watch this video:
Wrapping Up
Did you enjoy our SINGER MX231 reviews? We hope you now understand its core functions and drawbacks. One of the main reasons we went with this machine is that it is pretty easy to use.
We have come across several sewing machines before, but some of them are just too hard to use. And they do not have as many features. The MX321, on the other hand, is equipped with several cool features that optimize your workflow.
For all these reasons, we suggest getting this model. You won't regret getting your hands on it.